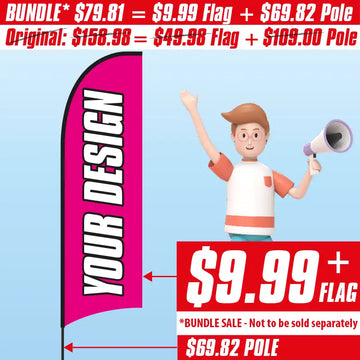 Custom Feather Banner - Cheap $9+ SALE!
Feather Flags
1. Wholesale Discount (no minimum quantity) - 50% Off Savings!
2. Full Color Printing - for any graphic type or even photo.
3. Heavy Duty hardware Pole/Base options.
4. Durable Oxford-cloth Pole Pocket (Strengthened with Triple Layers at the Tip).
What is a Feather Flag?
Feather flags are the perfect way to grab attention and promote your business. Made of lightweight and durable materials, they're easy to set up and transport, and can be used indoors or outdoors. With a variety of sizes and designs to choose from, you can find the perfect flag for your needs. Plus, our low prices make it easy to get started.
A feather flag is a beautiful and customizable way to show your patriotism and support for your favorite team or organization. These flags are made with lightweight, durable materials and come in a variety of sizes to fit any need. You can also customize your feather flag with different colors, designs, and symbols to represent your brand or organization.
Here are some tips on how to create a perfect custom feather flag for your organization:
Decide on the design or logo you want on your flag. You can use pre-made templates or designs available online, or create your own using simple graphics software.
Determine the size of the flag you want to create. The popular feather flags pole height is about 8ft and H10ft, but you can also buy smaller versions for indoor use. The size of the flag will be based on its intended use - for example, a parade or rally flag would be larger than an indoor banner.
Select the options you need for your flag - this includes fabrics (such as cotton), trim (such as fringe), and hardware (such as poles). You can find these items at most fabric stores or online retailers.
Assemble your flag according to this setup instruction. Be sure to follow all safety guidelines when working with light materials like feathers!
Feather Flags
Translation missing: en.products.product.price.regular_price
$9.99
Translation missing: en.products.product.price.sale_price
$9.99
Translation missing: en.products.product.price.regular_price
$49.98